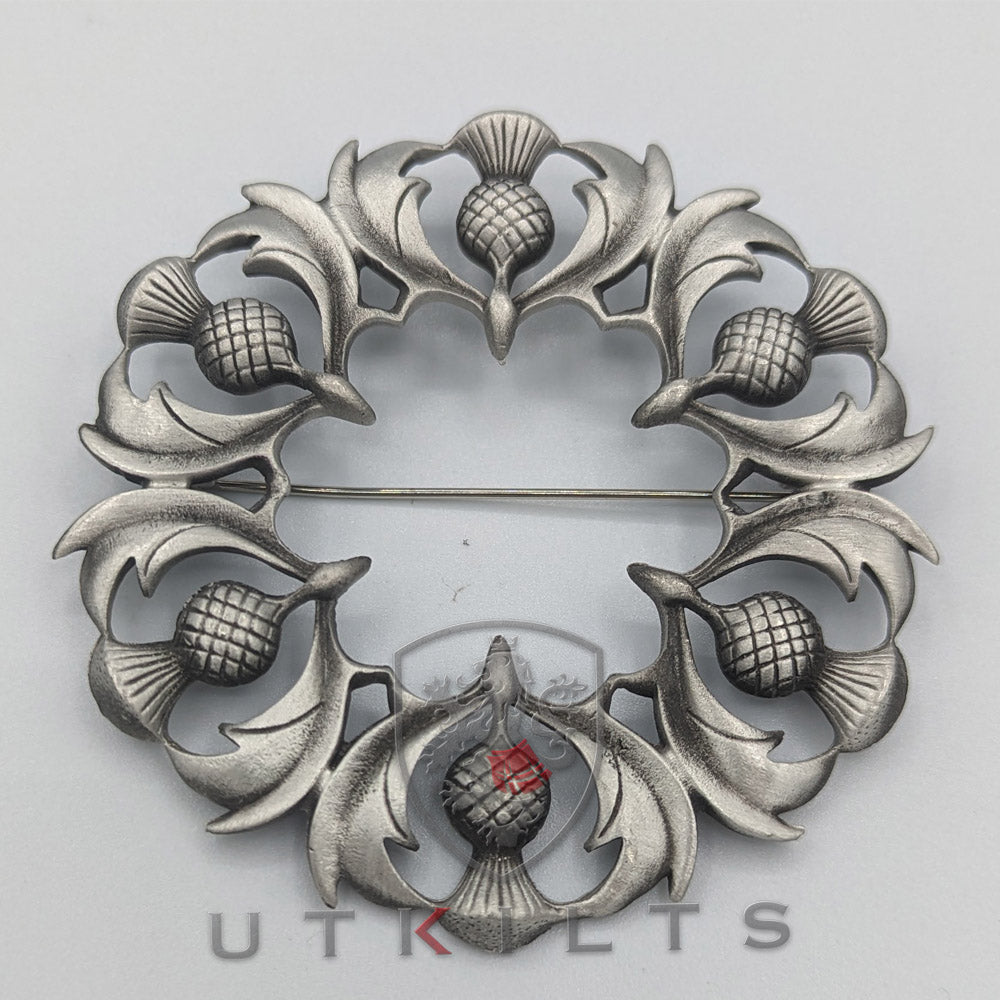 Premium Circular Thistle Brooch
---
Low stock - 2 items left

Inventory on the way
This beautiful pewter brooch was designed and made in Scotland. About the Scottish thistle from scotland.gov:  "The plant we know as the Scotch thistle, Onopordum acanthium, is not native. It was most likely introduced from Europe pre-16th century and has now naturalised in many areas. Chosen by Sir Walter Scott (1771-1832) as the emblem for George IV's visit to Scotland in 1822, it has been accepted as a national emblem. The most likely candidate for the true Scotch thistle is the native spear thistle - Cirsium vulgare - abundant in Scotland and very similar to the depictions on early Scottish coins.

The plant has many heraldic connections and is associated with the Order of the Thistle which in the 17th century adopted the wonderful motto, Nemo me impune lacessit (nobody attacks me with impunity) no doubt in reference to the spines.

This ancient order may date to Emperor Charlemagne in the 9th century or, as some suggest, Scotland's James III (1488-1513).

Mary Queen of Scots (1542-1587) had the thistle's image incorporated into the Great Seal of Scotland, making it a national symbol for longevity." This brooch will look absolutely amazing with your fly plaid, shawl, or other garment.

Features Include
100% Made in Scotland

Durable finish pewter finish

3 inches in diameter

Strong rear clasp to pin through even the thickest materials
Sizing
One size fits all. Can be used for men's fly plaids or for ladies sashes
Returns
We know you will love our kilt pins.  However, if for whatever reason you do not, UT Kilts has the best and easiest return policy.  Click for details.
These premium brooches come in several different styles and finishes. 
This item is in stock (unless indicated). Typical shipping is 2-3 days (though it can take up to 5 in some rare cases). Optional 2 day and overnight shipping is available. Prices can be seen in your cart or at checkout.  If you need overnight delivery for Saturday, please reach out to us directly using our contact page.