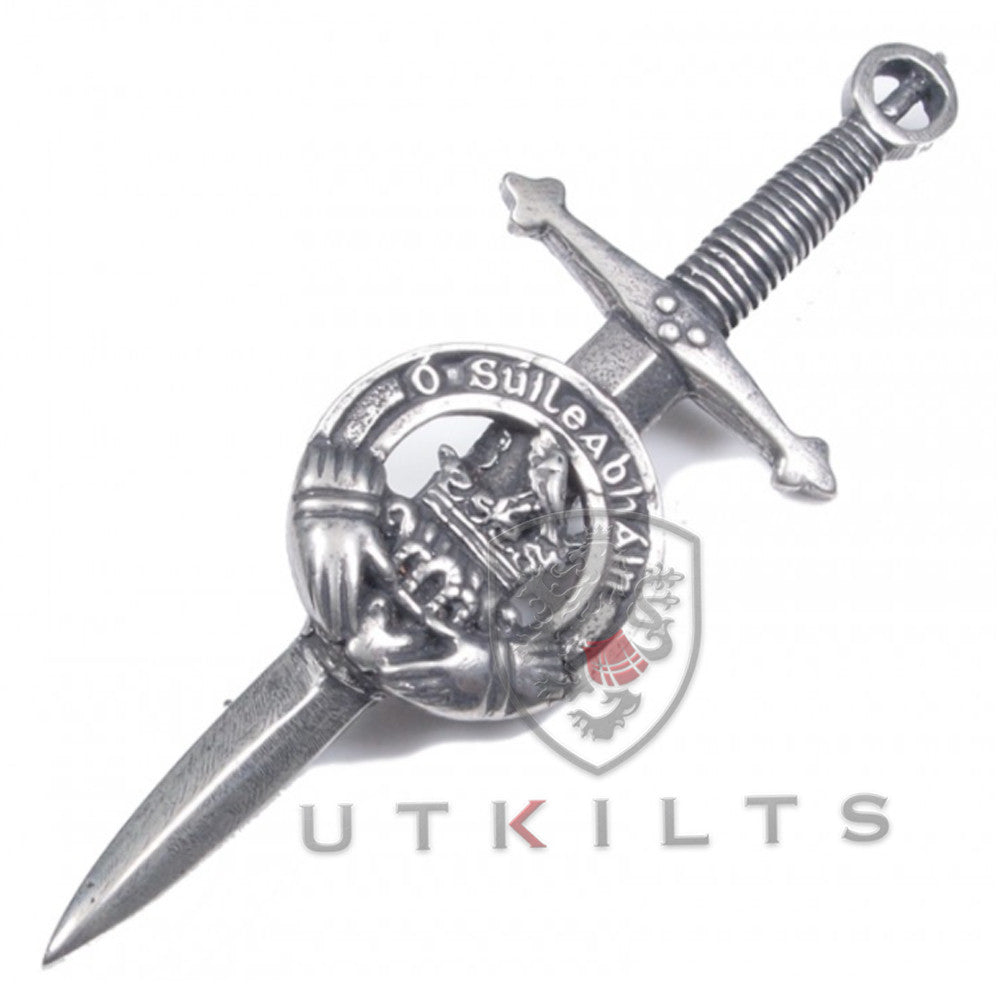 Special Order Premium Irish Clan Kilt Pin - 50 Clans Available!
---
This premium kilt pin has been designed and made in Scotland. The designer and maker of the kilt pin says the following, "Our range of Irish crests were devised by the heraldic artist Romilly Squire, who served for many years as a consultant to the Chief Herald of Ireland. These badges use the Crests from Irish coats of arms, as the full arms are too cumbersome to use for the purpose of anything on a small scale. At its core, heraldry is all about communicating a clear message, so he focused on the crests to make the most elegant representations suitable for badges. He then set these crests within a traditional Claddagh circlet motif, along with the Irish-Gaelic rendering of the sept name. All the Irish crests we use are based on the historic examples found in the archives of the Irish Office of Arms" Hand-cast and finished in Glasgow by highly trained craftsmen. This really is the finest quality traditional kilt pin made in solid 100% lead free Pewter. This kilt pin is perfect for any kilt and any occasion. Celebrate your family history with your own clan crest kilt pin.

Features include:
Designed and made in Scotland

100% Pewter

Authentic Clan Crests

3.54 inches tall

Tough clasp mechanism
Sizing
One size fits all.
Returns
We know you will love our clan kilt pins.  However, all of these pins are special order which means they can not be returned or exchange.
We offer lots of clan products with your choice of clan crest. Click here to see other clan products.
This item is a special order and not in stock. The arrival time and shipment to you does depend on many factors.  Since it is not feasible to have one pin being shipped at a time, we do have to wait for a larger order to  "piggy back" on with the kilt pins.  The longest we anticipate is 6-8 weeks, though during busier times of the year (spring, summer) it might take longer.  Typically we only expect around 3-5. Once here, typical shipping is 2-3 days (though it can take up to 5 in some cases). Optional 2 day and overnight shipping is available. Prices can be seen in your cart or at checkout.  If you need overnight delivery for Saturday, please reach out to us directly using our contact page.