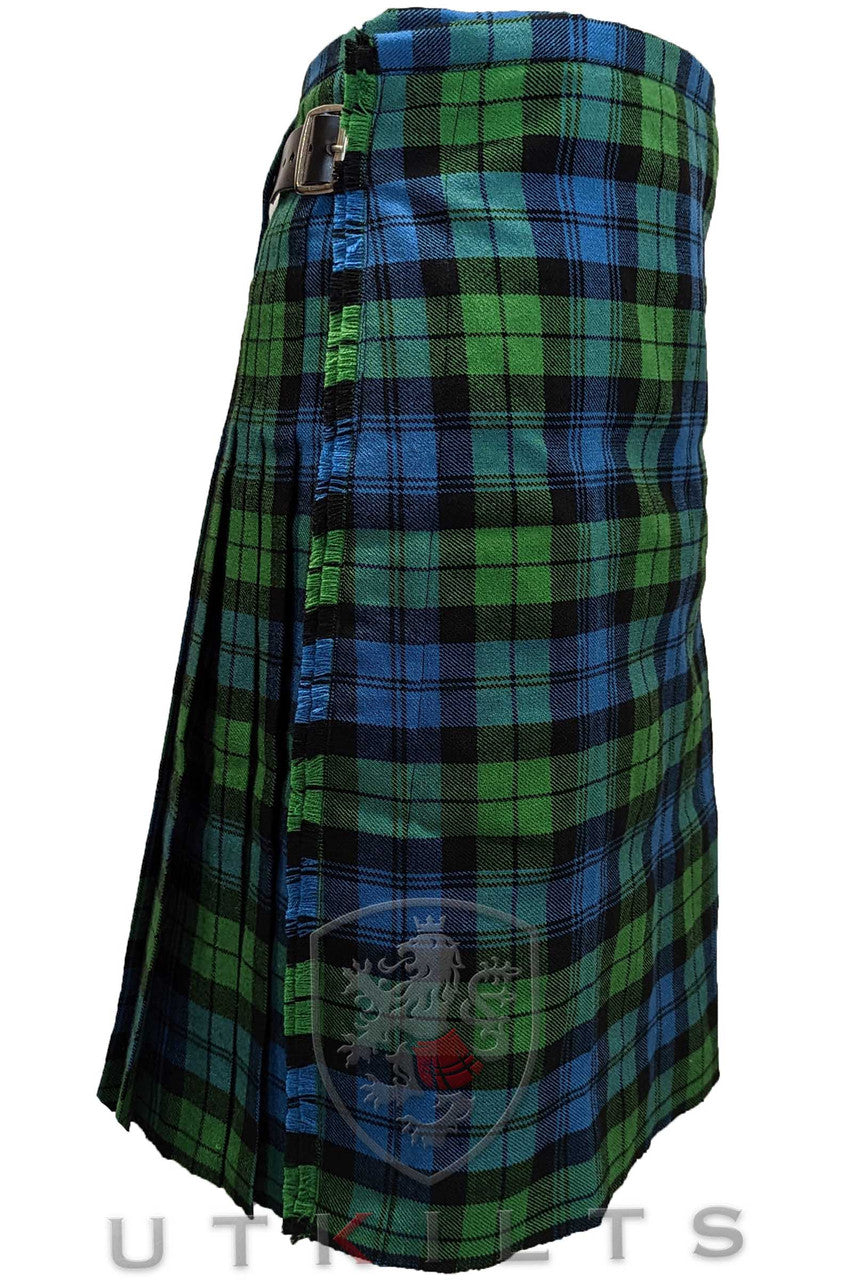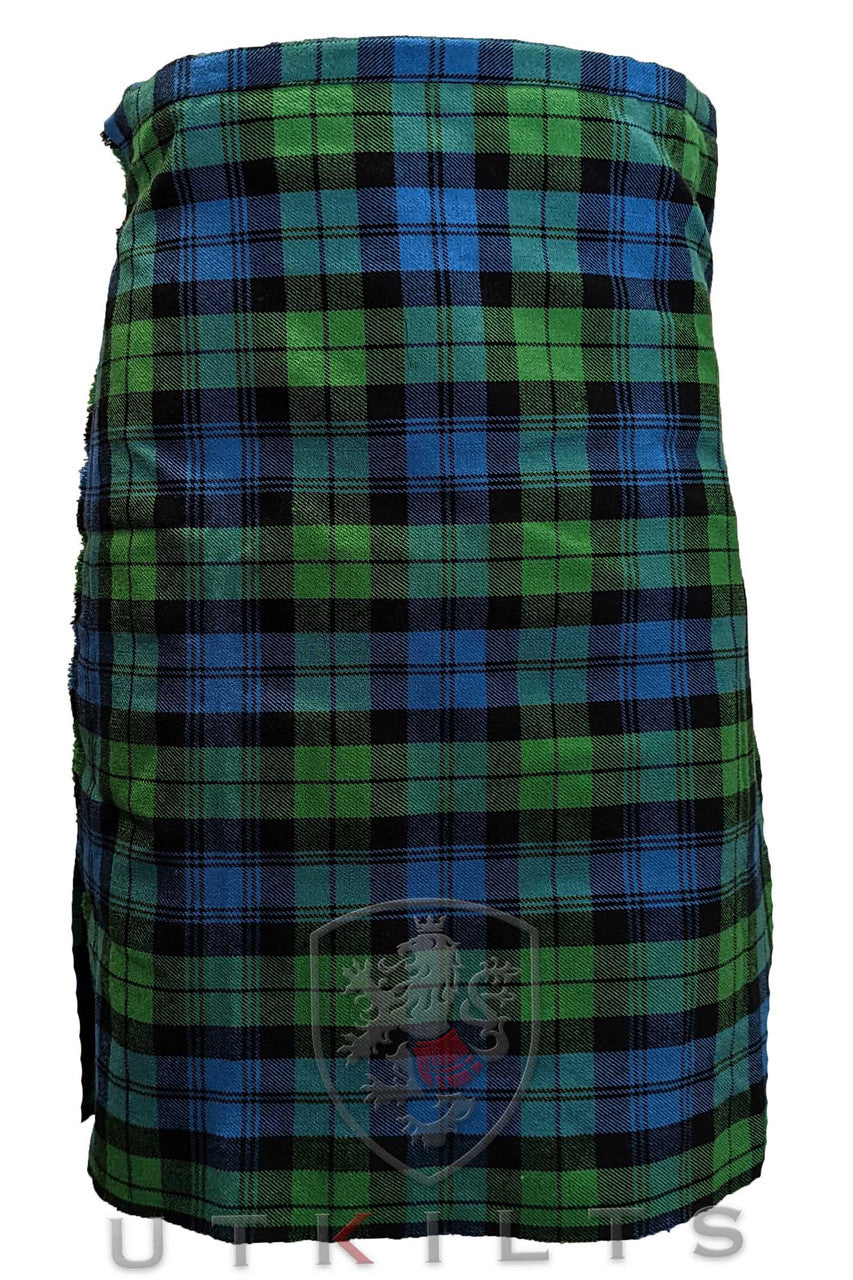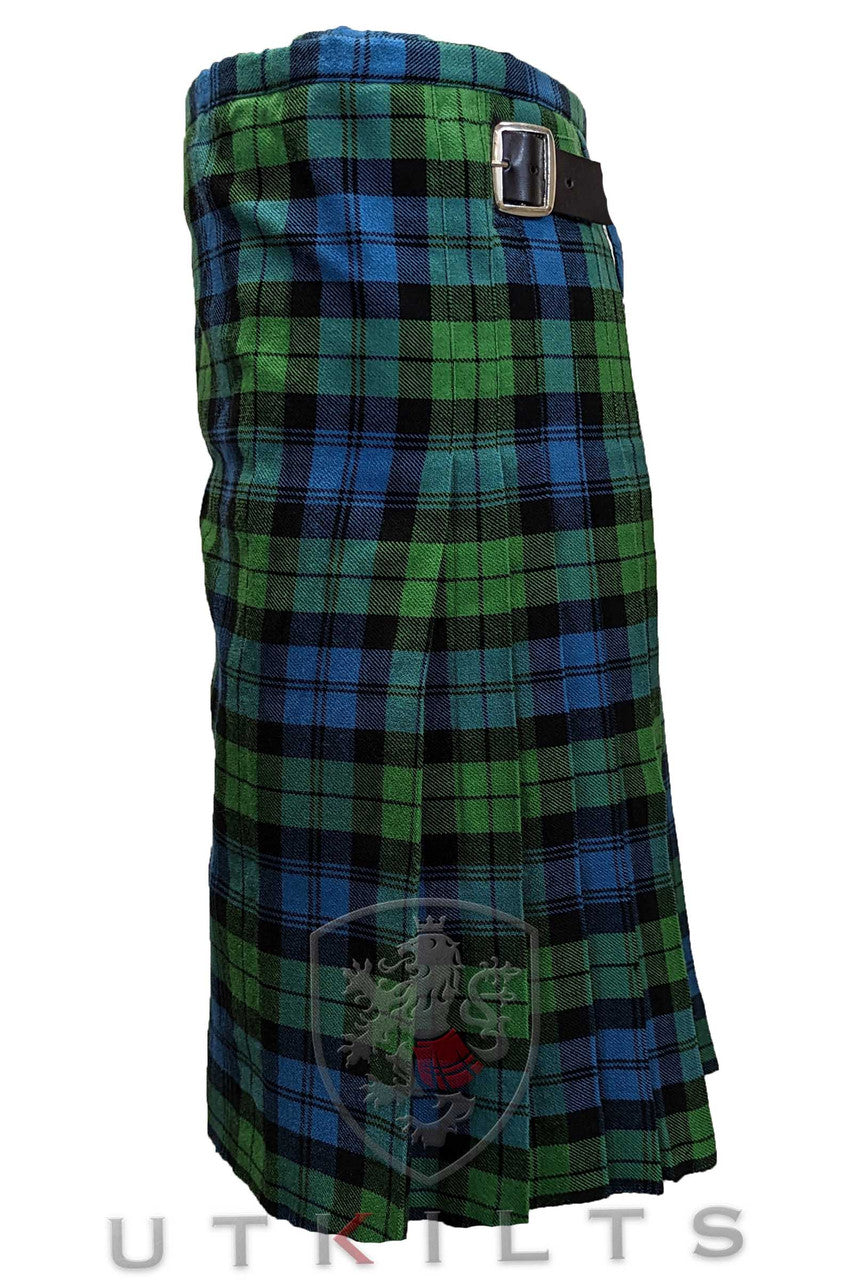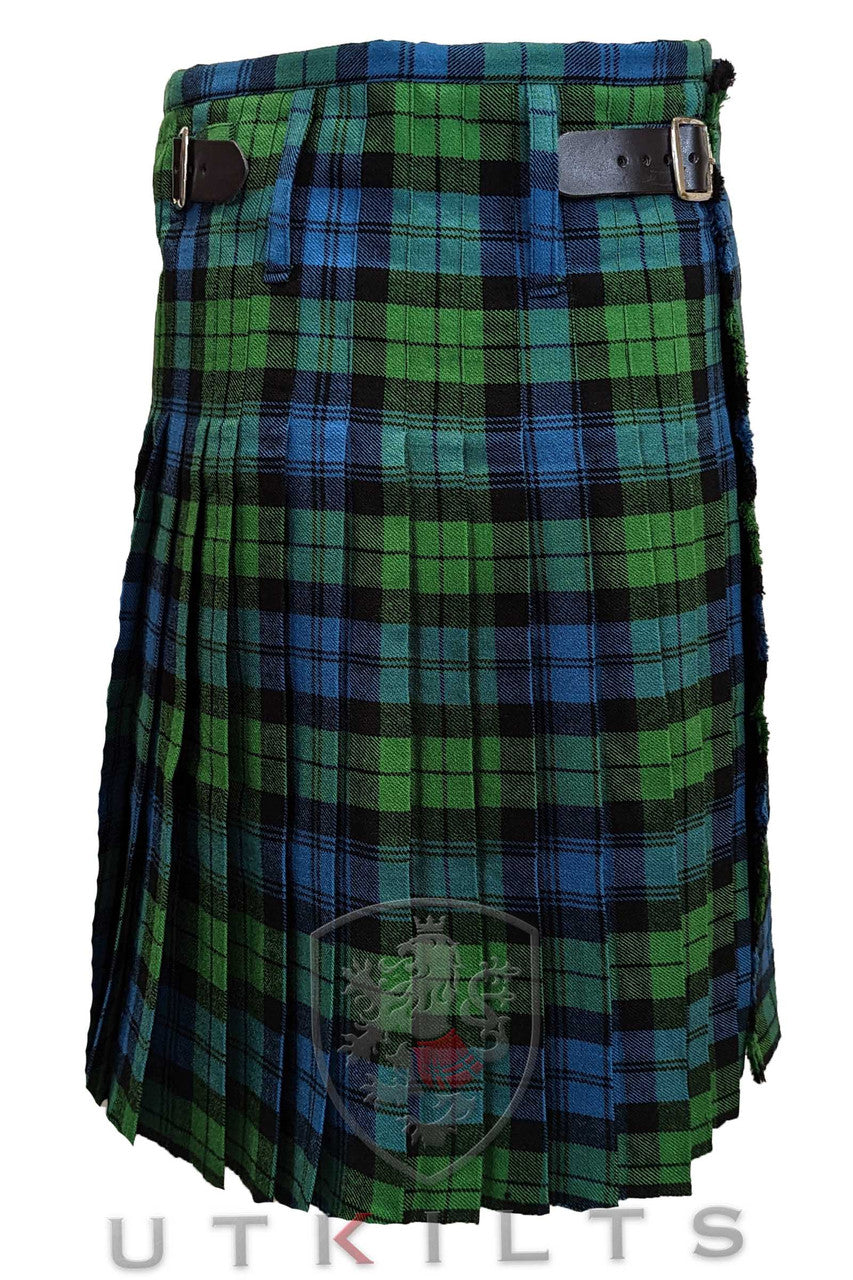 CLEARANCE! Standard Black Watch Ancient Wool Tartan Kilt
Regular price
$94.50
Sale price
$79.95
/
---
Size chart
How to measure for a kilt
For Men's or Women's Kilts
Follow the following guide based on measuring from the video:
Traditional Tartan Kilts:
 The size stated on each kilt is the smallest setting on the buckle straps (a size 36 adjusts from a 36 up to just under a 40).  Depending on where you want the buckle to end on your waist will determine your size.  A good rule of thumb to follow is to go down 2 inches from your measured waist size.  That will put you in the middle of the buckle straps (i.e. 40 measured would order a 38).
These apply to all traditional kilst with the exception of the made in Scotland.
Returns
If you follow our measuring video in the videos section below, you will get a kilt that fits.  However, if for whatever reason it does not, UT Kilts has the best and easiest return policy.
How to measure for a kilt with out measuring the waist. 
Use this when giving a gift or other situation where you are not able to measure their waist.
GOOD RULE OF THUMB IN SIZING:
When you are measuring a pair of pants to determine sizing, it should be around 3-4 inches bigger than what the jeans size says (some sizes closer to 30 are only 2 inches bigger).  You should only use this option as a last resort if personally measuring the person is not possible.  DO NOT USE THIS OPTION IF YOU CAN MEASURE YOURSELF.  Save yourself the time and just do it right the first time!
If for some reason you are just not able to measure anything, you can make a good guess at which size they would need.  I would go up one sizes if guessing, i.e. 40 will go to a 42 size kilt.  This is only a guess and does not replace at least trying to measure if possible.
Low stock - 1 item left

Inventory on the way
This amazing wool kilt is the perfect answer to those wanting a traditional kilt, lighter in weight that will look amazing for both formal and informal occasions.. The kilt is made from 4-5 yards of woolen wool tartan fabric. This makes for a lighter weight kilt while still trying to keep as much "swing" in the pleats as possible. Whether you need something lighter for a highlander games or just something more budget friendly, the UT Kilts standard wool traditional kilt is perfect. Plus, you don't have to spend hundreds of dollars for it. You get the perfect blend of a great price and an superbly made kilt.
Features:
Made from woolen wool fabric

Uses 4-5 yards of fabric (depending on size and tartan pattern)

Traditional Selvedge edge, not hemmed

Belt loops for belt and sporran

Full lining on inside of kilt

Double Fringed apron

Casual 2 buckle straps

Comes with a 24 inch total length

Matching flashes can be

purchased here
Tartan Information
This is a universal tartan. That means it does not have any clan or other affiliation. You do not need to have any special historical or ancestral connection to wear it. From the Scottish Tartans Authority:
"This sett is based on Logans 'Sutherland' tartan. Various thread counts appear in Wilsons pattern books of roughly the same proportions. Documents show that this was the tartan appointed for the Highland Companies in 1725 and later for the Black Watch in 1739. Slightly different count from 42nd Regiment. Sample in STA's Scarlett Collection. Sinclair/Brown Scrapbook (started in the 1930s) provides a particularly dark sample with the notes: " . . . worn by Earl of Sutherland 1719 [Portrait] and known to have been used by the clan and by the Gordons in the early 17th century."
The Black Watch Ancient is the same kilt as the Campbell Ancient
UT Kilts Premium Wool Kilt vs Standard Wool Kilt
We currently have two types of wool kilts: The Premium and The Standard. While both are constructed in very similar ways, there are some differences. Please see the chart below for the differences between the premium and the casual
| | |
| --- | --- |
| Premium | Standard |
| 6-8 Yards of Fabric | Up to 5 yards of fabric |
| woolen wool | woolen wool |
| 3 Buckle straps | 2 Buckle straps |
Sizing / Measuring
It is extremely important you follow our measuring video and order the size you need based on your measurement, not pants size. All of men's pants are labeled 2-4 inches smaller than what they actually measure. Please see our measuring video below or checkout or measuring page here.
The size that you choose for your order will be the smallest setting on the buckle straps (i.e. a size 36 adjusts from a 36 up to just under a 39.5).  Depending on where you want the buckle to end on your waist will determine your size.  A good rule of thumb to follow is to go down 1-2 inches from your measured waist size.  That will put you in the middle of the buckle straps (i.e. 39 or 40 measured would order a 38).  
You MUST measure in order to get the correct size.  Please visit our measuring section of the website to determine which size is best for you.  DO NOT use your pants or jeans size to determine your kilt size. 
Returns
This is a clearance item. All clearance items are sold as is. Returns will be subject to restocking fees.
Several other tartans are available in our traditional standard and premium wool kilts.  Check them out here. 
Custom waist sizes, lengths, or colors
Need a waist size or length not listed here? Looking for a different color? Click here for our special order listing here that will allow you to customize the kilt to your exact waist and length (only recommended if our in stock sizes won't work). We also have many other colors listed there that we can custom order to your specific size..
This item is in stock (unless indicated). Typical shipping is 2-3 days (though it can take up to 5 in some rare cases). Optional 2 day and overnight shipping is available. Prices can be seen in your cart or at checkout.  If you need overnight delivery for Saturday, please reach out to us directly using our contact page.